I just released version 1.1 which is my first patch for ChessCraft! Thanks everyone for the user interface (UI) and user experience (UX) feedback.
Slapped by Google Bots
I had a hickup this morning where ChessCraft was briefly taken off Google Play but all seems fine now.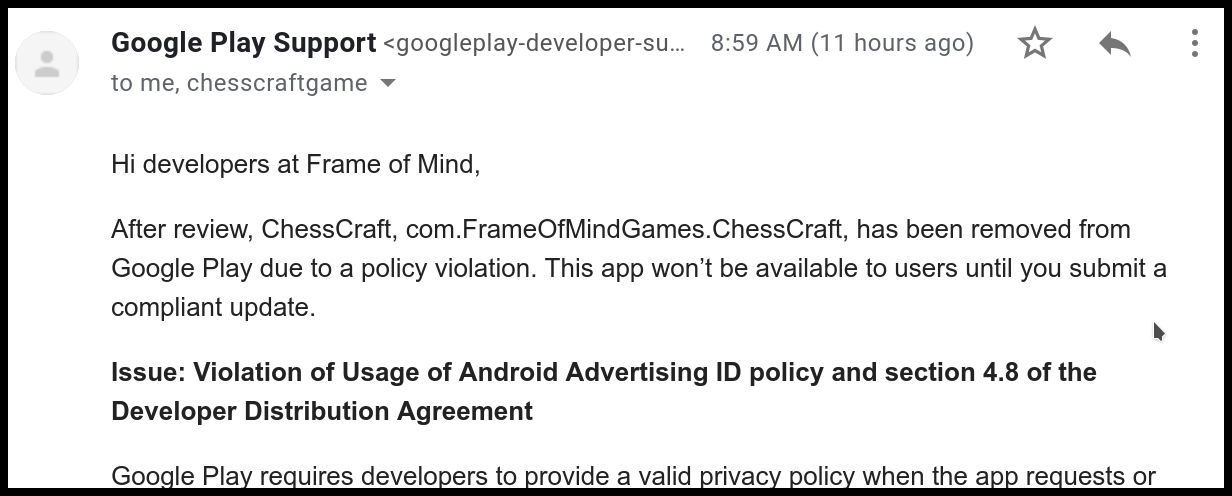 It seems like Google thought I was collecting advertising related personal information (despite having no ads) because of some code which is built-in to Unity. There's lots of confusion online about how to handle this situation from Google. However in my case one of the steps involved writing and sharing a privacy policy.
For the record, I will never monetise ChessCraft with ads. Also, I have no interest in collecting or selling personal information. Why? ChessCraft is my dream hobby project and all that just sounds dirty.
Release Notes
Many, many UI and UX enhancements based on user feedback.
Win, loss, and draw statistics for all boards. For now, this information can be found in the "identify board" popups.
Many new one-time conditional tips. For example, explaining en-passant the first time you see it, or suggesting harder boards the first time you beat the hardest difficulty.
Tweaks to various built-in boards and pieces.
Next?
I'm really excited to get working on the next version. This first update was a lot of low hanging fruit and small convenient changes, but 1.2 is going to introduce new fun features. Stay tuned! And let me know if you have any new ideas.